David Towsey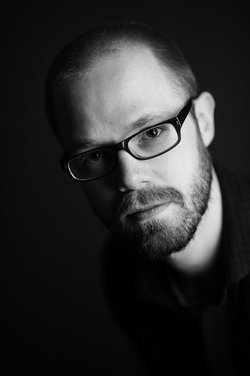 ©
David Towsey is a graduate of the Bath Spa MA in Creative Writing, and is continuing his studies as a PhD student at Aberystwyth University. He was nominated for a British Fantasy Society award and regularly reviews for critical journals, including the New Welsh Review and the BSFA's critical journal, Vector. Your Brother's Blood is the first in the Walkin' trilogy and is a bastard post-apocalyptic cross between The Passage, The Sisters Brothers and Cormac McCarthy (think Blood Meridian, not The Road). The second novel, Your Servants and Your People, was published in 2014, with the final instalment, Your Resting Place, was published in 2015.
It has been nine hundred years since man last used machines. Technology, science, and medicine have been forgotten, leaving in their wake a twisted legacy: the Walkin'. A disease that is passed down from generation to generation that causes men, women, and children to live on after death. In these turbulent times a community seeks isolation. Their plain existence is based on an incomplete copy of the Bible and the teachings of John Sebastian Barkley, town founder. Following his example they burn the bodies of their dead to stop them from living again. Except, that doesn't always happen…
Thomas McDermott has died. Born a man of Barkley he should have been burnt on a funeral pyre. Instead, he wakes from his death. Torn between the desire to see his wife and daughter, and the shame of what he has become, he travels to Barkley. But his return endangers everything and everyone he once loved.

Books in order of publication:
Your Brother's Blood (2013)
Your Servants and Your People (2014)
Your Resting Place (2015)

In praise of Your Brother's Blood:
'Haunting, elegiac, evocative and human. Combines the taut yet melancholy feel of a classic pursuit Western with an authentically horrific sense of history gone wrong. A beautifully crafted debut' – Christopher Brookmyre, author of Dead Girl Walking
'Despite sitting in two genres, Your Brother's Blood manages to largely avoid relying on recycled tropes. Instead, this is a sparse, elegantly written novel about family ties. The influence of Cormac McCarthy and especially The Road is keenly felt, and Thomas and Mary's relationship is moving without being overly sentimental.. the deft world-building and focus on small-scale human tragedy make for an absorbing alternative to World War Z-style epics.' – SFX
'Harrowing, haunting and all too human… a fascinating, emotionally enrapturing narrative.. pitch-perfect… a tremendously memorable debut, and a striking start to what promises to be a bloody biblical trilogy.' – Tor.com
'Towsey's writing is a joy … This will appeal to fans of both the zombie and classic Western genres' – British Fantasy Society
In praise of Your Servants and Your People:
'Beautiful and haunting, Your Servants and Your People is a sequel that brings back everything that was great about Your Brother's Blood' – The BiblioSanctum.
'DT really does know how to set fire to a plot and keep it burning!' – Book Geek
'Just as gripping and compelling as Your Brother's Blood … very much worth your time'  – A Fantastical Librarian
In praise of Your Final Resting Place:
'The Walkin' trilogy has been a genuinely fascinating experience […] this final book ends on a pitch perfect, bittersweet note' – The Eloquent Page
'[…] a cracked revenge Western and road story that holds a few surprises for the reader' – The Horror Hothouse
hat holds a few surprises for the reader' - The Horror Hothouse