The Walpole Orange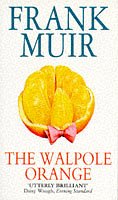 William Grundwick has a problem. As secretary of the Walpole Club he's duty-bound to arrange whatever function the Events Committee decides is appropriate to celebrate the Club's 250th birthday. It's just that what they have decided upon seems to William almost wholly inappropriate; worse still he's not sure he knows precisely what form such a function should take. And if that isn't bad enough, the whole business is supposed to be a deep secret, so he can't even discuss it with his lovely young wife Milly. Milly has her own problems. Is she going off William? His secretiveness is certainly disturbing. And now the Baroque Trio she runs has lost its viola and continuo player - Catriona has decamped to Los Angeles with a session guitarist called Trev.
Torn between the demands of the Events Committee, Milly, and an accountant in a diaphanous sari, spied on by a treacherous underporter with a hotline to the tabloids and pressurized by the chairperson of the Golden Horn Ladies Belly-Dancing Ensemble, Catford, the harrassed William has some appallingly difficult decisions to make.
The Walpole Orange, astonishingly, is Frank Muir's first novel. As one might expect from Britain's leading humorist, it is highly imaginative, wickedly witty and utterly irresistible.