The Virgin in the Garden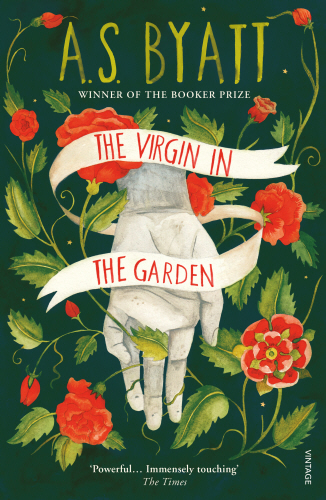 A.S. Byatt, sister of novelist Margaret Drabble and a student of Iris Murdoch's fiction, tackles human relations with a vigorous exhaustiveness and an ironic seriousness reminiscent of those more familiar writers. Stephanie, Frederica, and Marcus are the three children of snarling Bill Potter, resident curmudgeon at the progressive Blesford Ride School in Yorkshire, and each of them becomes entwined in a problematic emotional attachment while the school and environs are caught up in an artsy, local Coronation festival.
Unmotivated, pliable Stephanie is wooed by a fat, coarse, but blessedly down-to-earth and tender clergyman - and marries him despite her father, who boycotts the wedding, furious that his eldest and brightest is throwing herself away on domesticity with a religious clod. Frederica, feverishly ambitious and itching to lose her virginity, wins the apt role of young Bess in the Coronation festival's main event, an outdoor play about Elizabeth I by handsome young teacher Alex Wedderburn - who'd be the one to deflower Frederica if not for his uncomfortable affair with a married woman and his own tetchy preoccupations with growing-up. And worst off of all is reclusive, terrified, adolescent Marcus, whose disturbing tendencies toward fantasies and visions are pounced upon and churned up by a quietly psychotic teacher; their "experiments" with the paranormal spiral into homosexual advances and a pathetic breakdown.
In carefully paced, alternating chapters, Byatt develops each story line, and the parallels among the characters' varied awakenings are clearly drawn. The novel combines enlightenment and sexuality, Elizabethan drama and contemporary comedy. It is a tale of a brilliant and eccentric family, fatefully divided.
Territories:
Spanish: Santillana