The Undertaking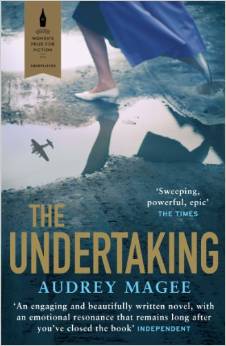 Desperate to escape the Eastern front, Peter Faber, an ordinary German soldier, marries Katharina Spinell, a woman he has never met; it is a marriage of convenience that promises honeymoon leave for him and a pension for her should he die on the front. With ten days' leave secured, Peter visits his new wife in Berlin; both are surprised by the attraction that develops between them.
When Peter returns to the horror of the front, it is only the dream of his wife that sustains him as he approaches Stalingrad. Back in Berlin, Katharina, goaded on by her desperate and delusional parents, ruthlessly works her way into the Nazi party hierarchy, wedding herself, her young husband and their unborn child to the regime. But when the tide of war turns and Berlin falls, Peter and Katharina, ordinary people stained with their small share of an extraordinary guilt, find their simple dream of family increasingly hard to hold on to.
The Undertaking was shortlisted for the Baileys Women's Prize for Fiction 2014.