Thinking Out Loud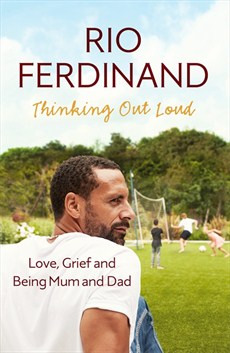 'When Rebecca died, the idea that one day I might begin to feel better would have struck me as laughable ... I know how persuasive this kind of permanence thinking can be.
I know too that anyone locked in its grip will laugh if I promise them that their pain will one day ease. It will. Of course it will. But I know better than to expect anyone to believe me.'
In 2015, former England football star Rio Ferdinand suddenly and tragically lost his wife and soulmate Rebecca, aged 34, to cancer. It was a profound shock and Rio found himself struggling to cope not just with the pain of his grief, but also with his new role as both mum and dad to their three young children.
Rio's BBC1 documentary, Being Mum and Dad, touched everyone who watched it and won huge praise for the honesty and bravery he showed in talking about his emotions and experiences. His book now shares the story of meeting, marrying and losing Rebecca, his own and the family's grief - as well as the advice and support that get him through each day as they strive to piece themselves back together. Thinking Out Loud is written in the hope that he can inspire others struggling with loss and grief to find the help they need through this most difficult of times.