The Earl of Petticoat Lane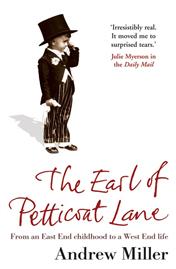 Henry Freedman and Miriam Claret met on Petticoat Lane in February 1929, when he was twenty-two and she eighteen. He was a barrow boy, she a milliner's apprentice. Henry danced home that night, having fallen entirely in love. Their romance survived the opposition of her remarkable mother Leah, the challenge of proving that Leah - and therefore Miriam - really was Jewish, and the mysterious disappearance of Henry's beloved dog. Henry and Miriam were raised in East London, but his family had emigrated from the Austrian Empire, hers from Poland, and they were not to end their lives in the East End. What began as forays into the West End led - via Henry's successful underwear business, and a remarkable friendship with his upper class mentor Walter - to a life lived among Astors and Parker-Bowlses. Henry and Miriam eventually arrived in a grand flat on Regent's Park, and a world of Court, club and charity balls - a very English world. Yet Henry and Miriam were never quite 'one of us' in their new habitat. And as they changed their lives, as evacuation, the Blitz and the humdrum heroisms of the war were followed by victory, so also did London change, and British society as a whole. Andrew Miller's compelling family history tells, elegaically but without nostalgia, of London's many faces. It is a story of immigration and Anglicisation, of the significance of race and class and language and accent in our country, of how it has been possible for people in this country to change themselves and their lives. It is a remarkable and moving book.
"Family history of the best sort... One feels like a privileged observer in a distant land... Fascinating... At the heart of this memoir looms the extraordinary figure of Miller's grandfather, whom the author presents with a novelist's sensitivity and power"
Sunday Times

"Miller sets scenes with the relish and skill of a novelist