The Best Gardens in Italy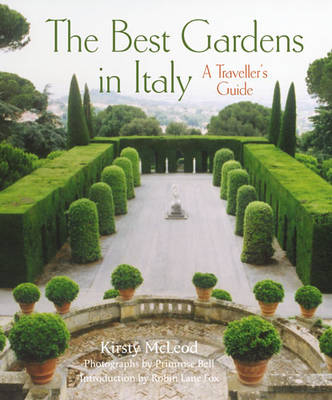 Italy's gardens speak to us all. In the history of gardening they are the bridge between our world and the ancient world. Their harmony, symmetry and serenity are at once inimitable and universally copied. During the past few years Italy has awoken to a realization of its gardens. In a gardening renaissance, interesting new gardens are being created all over Italy, and there has been exemplary restoration of some historic gardens. In this pioneering new book, Kirsty McLeod and Primrose Bell celebrate over a hundred of the finest Italian gardens open to the public. They take the reader with them on a journey to these gardens: they explore their history and context, and we meet the owners, hear the stories behind the gardens, and learn how they were made and how they are maintained.
The guide I will be lugging in my suitcase on all future visits to Italian gardens.
Stephen Lacey, Daily TelegraphEditor's choice: It will remain the definitive guide for everyone with an interest in garden history, whether they intend to travel there in person or just admire from the comfort of an armchair. Absolutely superb!
Good Book GuideA labour of love based on her years of travel all over the penninsula.
Financial TimesWith its elegant fusion of graceful prose and beautiful prose and beautiful photography, this marvellously readable book is a treat for experienced gardeners and novices discovering for the first time the infinite riches of Italian gardening... A real delight.
Daily Mail