Prairie Fever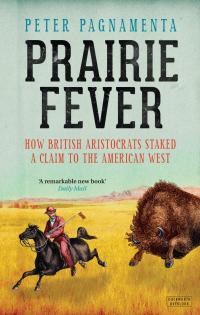 From the 1830s onward, a succession of well-born Britons headed west to the great American wilderness to find adventure and fulfillment. They brought their dogs, sporting guns, valets and all the attitudes and prejudices of their class. Prairie Fever explores why the West had such a strong romantic appeal for them at a time when their inherited wealth and passion for sport had no American equivalent.
In fascinating and often comic detail, the author shows how the British behaved and what the fur traders, hunting guides and ordinary Americans made of them as they crossed the country to see the Indians, hunt buffalo and eventually build cattle empires, buying up vast tracts of the West.
But as the British blue bloods became big American landowners, they found themselves attacked and reviled as land vultures and accused of attempting a new colonization. The denouement came when Congress moved against the foreigners and passed a law to stop them from buying land.
Peter Pagnamenta's wonderful account shows the enthusiasm of the British for new horizons in the age of empire, set against the rise of a modern nation that would soon eclipse them.