Only In London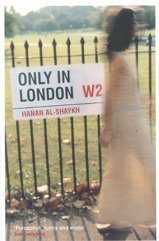 As a flight from Dubai comes into London's Heathrow the aircraft hits turbulence ad four people from different corners of the Arab world are thrown together: beautiful, lost Lamis, recently divorced from her wealthy Iraqi husband Nicholas from Sotheby's, an expert on Islamic daggers louche, noisy Amira, a Moroccan who lives off immoral earnings, and the transvestite Samir, with a monkey hidden in a basket.
We follow their intertwining lives in London. Amira masquerades as an Arab princess, hanging out at the Dorchester Hotel in search of her prey. Samir, now Amira's lodger spends his days and nights on the Edgware Road dreaming of blond boys. And Nicholas and Lamis begin a passionate affair...
Capturing a unique London from the Edgware Road shawarma houses to Harrods and Queensway, this is a funny, tender and sexy novel that uncovers a very special small world at the heart of a big city.
'Devastatingly entertaining fiction...teeming with ideas: memory and exile, language, desire and identity, and the search for order in the chaos of a metropolis.  Very funny.'
Literary Review
Territories:
Bloomsbury: British Commonwealth ex. Canada Doubleday: USA & Canada Danish: Forlaget Centrum A/S Dutch: De Geus ( Holland) Finnish: Gummerus Publishers French: Actes Sud ( France) Norwegian: Gyldendal Norsk Forlag ASA Portuguese: Difel Difusao Editorial ( Portugal) Spanish: Editorial Planeta SA ( Spain)