Madhur Jaffrey's World Vegetarian Cookbook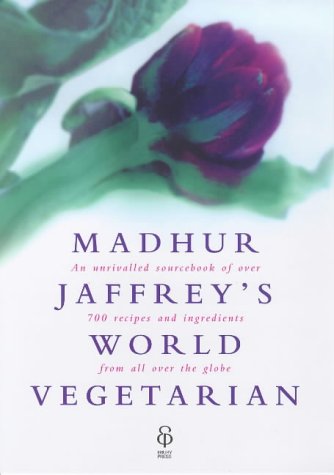 Vegetarian cookery, once associated with the East, is now a firmly established part of our Western culture and eating habits. As meat-free cooking has grown in popularity and sophistication, we have borrowed a whole range of techniques and ideas from various cultures, creating an exciting tradition of globally influenced vegetarian cuisine. Rather than approaching vegetarianism from a dry, didactic standpoint, this major cookery book takes as its starting point the principle that vegetarian cooking is one of the most interesting, dynamic areas in food today and provides a collection of the very best vegetarian recipes the world's cuisines have to offer.
Chapter to chapter the book focuses on different ingredients, from vegetables and grains to pulses and dairy products, providing fascinating information about less familiar ingredients, such as wild rice or the many kinds of salad leaves available. Over 500 vegetarian recipes draw on the whole world for their inspiration, from Thailand to Tunisia, from the Mediterranean to Mexico. Throughout Madhur Jaffrey's renowned talent for informing and inspiring her audience is apparent, and her own personal anecdotes and stories set the recipes in context.
Madhur Jaffrey's World Vegetarian will be a milestone in modern cuisine and is a cookbook which is set to be on kitchen shelves for many, many years to come.
Territories:
Ebury Press: British Commonwealth & European Community ex Canada, Dutch: BzzToH, Uitgeverij, German: Christian Verlag