Constellations: Reflections from Life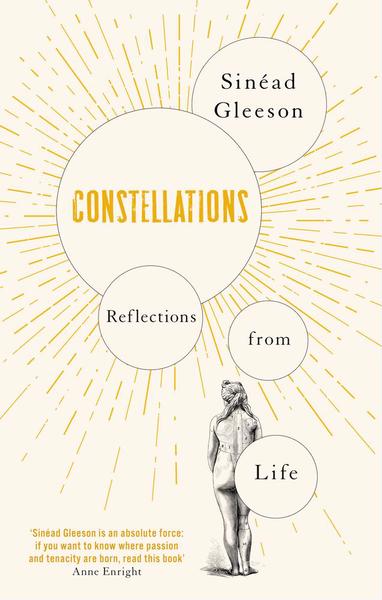 I have come to think of all the metal in my body as artificial stars, glistening beneath the skin, a constellation of old and new metal. A map, a tracing of connections and a guide to looking at things from different angles.
How do you tell the story of a life in a body, as it goes through sickness, health, motherhood? How do you tell that story when you are not just a woman but a woman in Ireland? In these powerful and daring essays Sinéad Gleeson does that very thing. All of life is within these pages, from birth to first love, pregnancy to motherhood, terrifying sickness, old age and loss to death itself. Throughout this wide-ranging collection she also turns her restless eye outwards delving into work, art and our very ways of seeing. In the tradition of some of our finest life writers, and yet still in her own spirited, generous voice, Sinéad takes us on a journey that is both uniquely personal and yet universal in its resonance. Here is the fierce joy and pain of being alive.
Praise for Constellations: Reflections from Life:
'Sinéad Gleeson has changed the Irish literary landscape, through her advocacy for the female voice.  In Constellations, we finally hear her own voice, and it comes from the blood and bones of her body's history. Sinéad Gleeson is an absolute force: if you want to know where passion and tenacity are born, read this book.' Anne Enright, author of The Green Road
'Sinéad Gleeson has written one of those rare things, a wise and compassionate book full of truth and humility. There are universal themes here; love, the strength of women, survival against the odds. Beautiful prose, poetry and history woven together to make this a must-read and a masterpiece.' Kit de Waal, author of My Name Is Leon
'Constellations is a truly beautiful book; about the tremendous confines of the body, struck through with almost everything else in the universe, from songs to stars.' Sara Baume, author of Spill Simmer Falter Wither
'Utterly magnificent. Raw, thought-provoking and galvanising; this is a book every woman should read.' Eimear McBride, author of A Girl Is a Half-formed Thing
'The most beautiful and brilliant book - gorgeous, furious, powerful, tender, funny, compassionate and shockingly wise. Sinéad Gleeson writes with such dazzling talent and vivid insight. Constellations is one of those rare magical books and I feel truly nourished by it. Absolutely extraordinary and life-enhancing.' Daisy Buchanan, author of How to Be a Grown Up
'Intimate, yet universal, the most powerful essays I've read in many years.' John Boyne
'Constellations is an extraordinary piece of writing - beautiful, life affirming, and full of heart.' Louise O' Neill, author of Asking For It
'Nimbly written, balletic in style, heartfelt, spirited and thoughtful, Sinéad Gleeson's Constellations is a powerful, inspiring gift to readers everywhere.' Jami Attenberg, author of All Grown Up
'Sinéad Gleeson's essay collection brings together passionate, transcendent essays about bodies and art, ghosts and womanhood, grief and motherhood, and what it's like to live in a body that fails you. Like the perfect title indicates, this is a glistening ensemble of pieces that live on their own but, all together, form a powerful emotional universe.' Elle, Ones to watch in 2019