All God's Children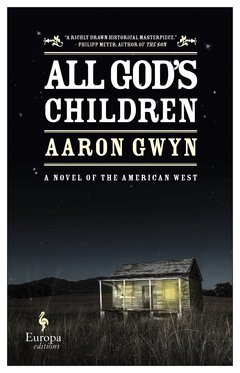 In 1827, a disgraced young Kentuckian named Duncan Lammons sets out for the frontier, fleeing the constraints of America for the Mexican province of Texas. An illegal immigrant in this wild, new country, Lammons escapes a scandal that has threatened his life, hoping that here in Texas, his past won't follow and a man may live—and love—as he pleases.
In the same year, Cecelia, an enslaved teenager, runs away from the Virginia plantation on which she's being held. She is caught and sold to a cotton planter in Mississippi, caught again and sold to a cane planter in Louisiana. Ingenious, brave, and utterly defiant, she relives this cycle of escape and capture for the next ten years, drifting through the hellish circles of American slavery—until, in 1837, she crosses paths with a wild and extraordinary frontiersman named Sam Fisk who steals her away from a slave auction in Natchitoches.
Fearing her saviour might be a slaver in disguise, Cecelia travels with Sam to Texas where together they pursue a dangerous dream of freedom. In this newly-founded Republic their precarious lives are intertwined with that of Duncan Lammons who is chasing a hazardous dream of his own.
A novel about three characters living on the knife-edge of a slave nation, All God's Children explores the paradoxes of the American frontier, a place of enormous liberty and terrible bondage, of wild equality and cruel injustice, where all things are paid for in blood.
Advance Praise for All God's Children
"Aaron Gwyn's new novel is the kind that leaves you fighting sleep for one more page, desperate to find out what happens next. On top of being a first-rate page turner, it is also written with extraordinary beauty, grace, and moral clarity. With that rare combination of qualities, All God's Children earns its place among the finest novels ever written about the American West. A masterpiece."
KEVIN POWERS author of The Yellow Birds
"Aaron Gwyn claims his place among the ranks of great American novelists with this richly drawn historical epic. A masterpiece."
PHILIPP MEYER author of The Son