Alex Michaelides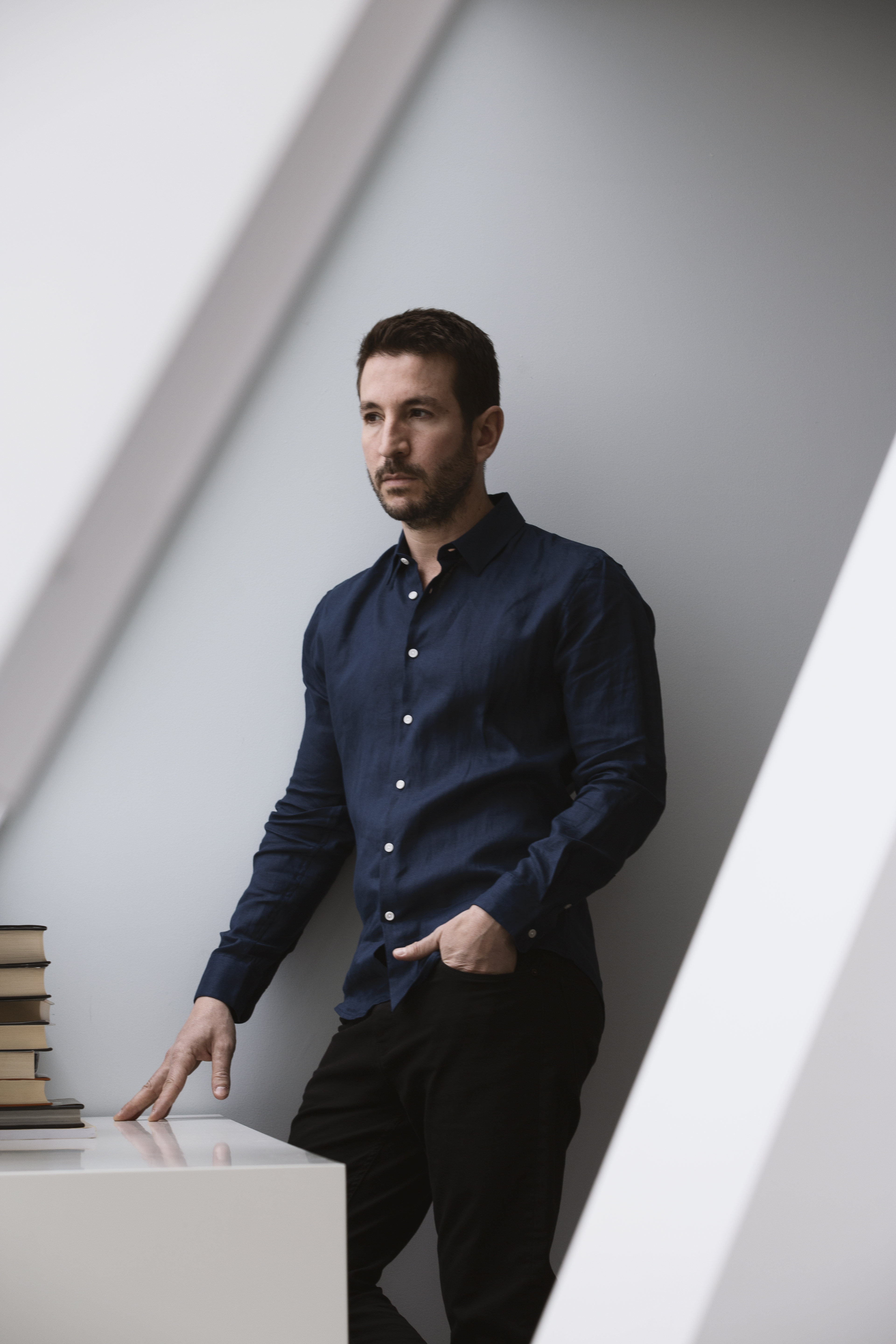 Alex Michaelides' debut, The Silent Patient, was subject to auctions and pre-empts in a world-record breaking number of territories, and has gone on to the be the world's bestselling debut in 2019. It went straight into no.1 on the NYT bestseller list, and has remained in the top 10 for over a year. It has been a top 10 hit in many countries all over the world. It has been shortlisted for the Best Crime and Thriller at the 2020 British Book Awards. His next book - The Maidens - will be published in 2021. 
THE SILENT PATIENT was the bestselling US HB debut of the 2019. It was a Sunday Times top 10  bestseller for seven weeks and no.1 New York Times bestseller, and Amazon no.1 bestseller. It has so far spent over a year in the NYT bestseller chart. It's a UK record breaker - no UK debut has ever gone straight into no.1 in the US or spent so long in the US charts. It was the biggest HB debut thriller of the year in the UK and it has become a true global bestseller, going top ten in Norway, Poland, Greece, Israel, Finland, Russia, Italy, Romania, Australia, India, Ireland, South Africa, Brazil…
It was a Richard and Judy pick and a Times Book of the Month. It was voted Goodreads Best Crime and Thriller of the Year. An Amazon.com top 10 book of the year and their no.1 thriller of the year. Shortlisted for a Barry for best debut and Barnes and Noble Book of the Year. Bookbub top 10 thrillers of the decade.
Alex studied psychotherapy for three years, and worked for two years at a secure unit for young adults – all of which provided material and inspiration for the book. He is also a screenwriter.
Books in order of publication:
The Silent Patient (2019)
The Maidens (2021)
Praise for The Maidens:
"Alex Michaelides's long-awaited next novel, 'The Maidens,' is finally here...the premise is enticing and the elements irresistible." The New York Times
"Fans of The Secret History will fall hard for The Maidens, Michaelides' dazzling chaser to 2019's bestselling The Silent Patient, a challenging act to follow...Layered in dreamlike references to Greek mythology and ancient ritualized murders, this clever literary page-turner firmly establishes Michaelides as an unstoppable force in the thriller space." - Esquire
"There's definitely a flavour of The Secret History to Alex Michaelides's second novel … The Maidens is a compelling read, and delivers its Hellenic thrills in style." Sunday Telegraph
"A tense, original story" The Daily Mail
"Infused with Victorian-era British poetry and Greek mythology, Maidens turns the highbrow into the highly readable" Entertainment Weekly
"Combining Greek mythology with propulsive suspense, this gripping, twisty tale is the perfect way to start off your summer reading with a bang" Book Riot
"Nothing short of genius." Woman & Home
"Elegant, sinister, stylish and thrilling. The Maidens answers the weighty question, how do you go about following one of the biggest thrillers of the past decade? You write something even better" - Chris Whitaker, New York Tines bestselling author of We Begin at the End
"Stunning... The intelligent, cerebral plot finds contemporary parallels in Euripides's tragedies, Jacobean dramas such as The Duchess of Malfi, and Tennyson's poetry. Michaelides is on a roll" Publishers Weekly, starred review
"Stylishly written with a great sense of place, bestselling author Michaelides's second novel is a compelling and complex psychological thriller of the highest order." Irish Independent
"Gripping scenes" Time Magazine
"Michaelides' stage-setting skills are as masterful here, as they were in The Silent Patient; another tense, cleverly twisted winner." Booklist, starred review
'his writing, especially his characterisation, possesses a unique sparkle and more promise than most other writers.' Daily Mail
"Destined for the bestseller list." Newsweek
"Page-turner." Time
"What a thrilling, heart in throat ride. A great triumph." Stephen Fry
'He's achieved the almost impossible and surpassed The Silent Patient in this compelling literary thriller, which grips from intriguing start to horrifying finish. It takes a rare talent to take inspiration from Tennyson, Homer and Euripides and weave them into such a contemporary and compelling story, and he has more than achieved this. A brilliant achievement.' Harriet Tyce
'A deliciously dark, elegant, utterly compulsive read — with a twist that blew my mind.  I loved this even more than I loved The Silent Patient and that's saying something.' Lucy Foley
"Alex Michaelides hits a home run in his sophomore effort. The Maidens is a page-turner of the first order." David Baldacci
"The greatest campus novel since The Secret History by Donna Tartt." Tony Parsons
Praise for The Silent Patient:
'One of the most spellbinding psychological thrillers we've read in years. Beautifully written, exquisitely plotted, the story relentlessly pulls you in and doesn't let you go until the last shocking (and yet brutally logical) twist. This is an absolutely fantastic and extraordinary read.' Douglas Preston and Lincoln Child, authors of the #1 bestselling Pendergast series
'Smart, sophisticated storytelling freighted with real suspense – a very fine novel by any standard.' Lee Child, author of the bestselling Jack Reacher series
'That rarest of beasts: the perfect thriller. This extraordinary novel set my blood fizzing — I quite literally couldn't put it down.  I told myself I'd just dip in; eleven hours later — it's now 5.47 AM — I've finished it, absolutely dazzled.' AJ Finn, #1 New York Times bestselling author of The Woman in the Window
'An excellent, slow-burning psychological thriller; sharp, clever and with a whammy that genuinely took me by surprise (it takes a lot to do this). Kudos to the author. More, please.' Joanne Harris, author of Chocolat
'Just one more chapter. Just one more. Then I'll stop.' Once you pick up The Silent Patient, this will be what you'll say to yourself, until you give in and keep reading until the blindsiding and brilliantly clever conclusion – no matter how good a sleuth you are, you aren't going to see it coming.' Emily Koch, author of If I Die Before I Wake
'Michaelides has crafted a totally original, spellbinding psychological mystery so quirky, so unique that it should have its own genre. I read it in two nights and savored every luscious word, every grim encounter, every startling twist. The pages will burn with the friction from your hands turning them.' David Baldacci, author of End Game
One of the best thrillers I've read this year. Masterfully plotted and brilliantly paced by a writer at the top of his game.' Cara Hunter, author of Close to Home
'I was kicking myself black and blue that I did not see *that* moment coming. I have never been so happily wrong-footed. A very clever book – highly recommended. ' C.J. TUDOR, Sunday Times bestselling author of The Chalk Man
'Genuinely chilling and with a real sucker punch of a twist' Sharon Bolton, Sunday Times bestselling author of The Craftsman
'Absolutely brilliant' Stephen Fry
'The Silent Patient is intelligent, imaginative and a terrific read.' The Times
'Comes with a killer twist'  The Sunday Times
'A neatly woven, intelligently written story that lifts the curtain on the complexities of trauma and the human psyche' Ali Land, Sunday Times bestselling author of Good Me, Bad Me
'A very impressive debut…an original take on the psychoanalyst tale.  I'm excited to see what Alex does next. This guy has a voice. That's very rare. He's a real talent.' Steve Cavanagh, author of Thirteen
'[The Silent Patient] establishes Michaelides as a major player in the field.' Publishers Weekly
'A dark thriller with a startling twist' Good Housekeeping
 'The Silent Patient may be a first novel, but it has the pace and finesse of a master.' BBC Culture
'With more foreign deals than I've had hot dinners and film rights already snapped up, The Silent Patient is the thriller everyone's going to be talking about this year…I know all thrillers are meant to have explosive twists, but The Silent Patient really will have your jaw on the floor when it reaches its shocking climax.' Red Magazine 
'An ending worthy of a classic Agatha Christie mystery' WSJ
'Masterly plotting, Hitchcockian suspense and an absolute jaw dropper of an ending. Read this book!' Lucy Foley, author of The Book of Lost and Found
'The plot is satisfyingly twisty with a gobsmacking conclusion' Irish Daily Mail
'A brilliant, all-consuming page-turner with one of the best twists I've ever read.' The Sun 
'This impressive, immersive debut establishes Michaelides as a writer to watch' People
Praise for The Maidens
'Pick up this novel if you're after a bookish thriller with stunning backdrops' New York Times