The Rookie: An Odyssey Through Chess (and Life)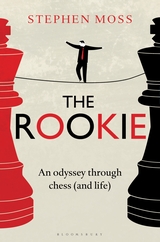 Chess has been played for more than 1,500 years and is played in every country in the world. Stephen Moss sets out to master its mysteries, and unlock the secret of its enduring appeal. What, he asks, is the essence of chess? And what will it reveal about his own character along the way?
In a witty, accessible style that will delight newcomers and irritate purists, Moss imagines the world as a board and marches across it, offering a mordant report on the world of chess in 64 chapters – 64 of course being the number of squares on the chessboard. He alternates between "black" chapters – where he plays, largely uncomprehendingly, in tournaments – and "white" chapters, where he seeks advice from the current crop of grandmasters and delves into the lives of great players of the past.
It is both a history of the game and a kind of 'Zen and the Art of Chess'; a practical guide and a self-help book: Moss's quest to understand chess and become a better player is really an attempt to escape a lifetime of dilettantism. He wants to become an expert at one thing. What will be the consequences when he realises he is doomed to fail?
Moss travels to Russia and the US – hotbeds of chess throughout the 20th century; meets people who knew Bobby Fischer when he was growing up and tries to unravel the enigma of that tortured genius who died in 2008 at the inevitable age of 64; meets Garry Kasparov and Magnus Carlsen, world champions past and present; and keeps bumping into Armenian superstar Levon Aronian in the gents at tournaments.
He becomes champion of Surrey, wins tournaments in Chester and Bury St Edmunds, and holds his own at the famous event in the Dutch seaside resort of Wijk aan Zee (until a last-round meltdown), but too often he is beaten by precocious 10-year-olds and finds it hard to resist the urge to punch them. He looks for spiritual fulfilment in the game, but mostly finds mental torture.