My Name Is Yip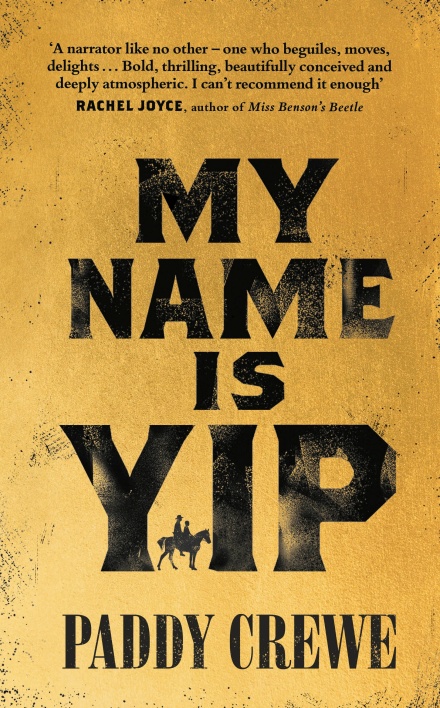 The year is 1815. One October night in the small town of Heron's Creek, Georgia, Yip Tolroy is born, the cord snaked around his fragile neck, his skin a deathly white. As his mother still lies in the blood-slicked sheets, and Yip takes his first gulps of air, his father disappears without trace. By the time Yip reaches his fifteenth year he has not spoken a word - he is mute, friendless, an outcast. But his life is about to change irrevocably.

Gold is discovered nearby, and Yip commits a grievous crime that leaves him with no choice but to flee. In the company of a new and unlikely comrade, Dud Carter, Yip must take to the road, embarking on a journey that will thrust him unwittingly into a world of menace and violence, of lust and revenge. And, as Yip and Dud's odyssey takes them further into the unknown - via travelling shows, escaped slaves and the greed of gold-hungry men - the pull of home only gets stronger...

My Name Is Yip has been longlisted for the 2023 Walter Scott Prize for Historical Fiction, the 2023 Wilbur Smith Adventure Writing Prize and Authors Club Best First Novel Award, and shortlisted for the 2023 Betty Trask Prize.

Praise for My Name is Yip
'Mute but eloquent,Yip comes thrillingly into our midst to unfurl his singular and singing book of revelations. Murder, gold, lost fathers... Paddy Crewe has a 24-carat gift.' Sebastian Barry, author of Days Without End
'What a marvel this novel by Paddy Crewe is, what an unlooked-for firecracker of fury and beauty and rage and hope. My Name Is Yip is a tremendous novel, one that both harks back and burns the way forward, that is built of sentences that sing and roar.' Laird Hunt
'My Name is Yip is a thrilling adventure story brimful of humour, strangeness and charm.' Ian McGuire
'From a meditative, almost sleepy start, My Name is Yip accelerates into a wild gallop through the happenings that have come to define the nineteenth-century American Wild West in the contemporary imagination: the Gold Rush, escaped slaves, murderous saloon brawls, Native American scalpings, travelling freak shows, Yip is swept along by them all. But while there are pleasures (and horrors too) in this picaresque of a plot, its real power lies in Yip's distinctive voice. The pint-sized Yip is a mute, unable to speak, but he can write, and from his first words he springs from the page, entirely himself and impossible to resist. An exuberant and original debut.' Clare Clark
'I love the compelling narrator… somehow a cross between Charles Dickens's David Copperfield and Charles Portis's Mattie Ross.  And like True Grit, Yip takes us on a wild ride through the Old West.' Michael Punke, author of The Revenant and Ridgeline
'Magnificent. My Name is Yip is a sheer joy. What a voice, what a story. Yip is an incredible character, up there with Owen Meany and Holden Caulfield for sheer unforgettableness. It's a glorious novel.'  Donal Ryan
'Yip Tolroy may not speak, but his voice soars off the page in Paddy Crewe's terrific debut novel. Both an entertaining tale of gold, murder and the impulse for revenge, and a tender coming-of-age story amid the lawlessness of the American frontier.' Paul Howarth, author of Only Killers and Thieves
'My Name is Yip is so utterly itself and vivid. I haven't read anything quite like it. A mesmeric and rollicking adventure told by a narrator like no other - one who beguiles, moves, delights and also had me so worried for him, I was on the edge of my seat. Bold, thrilling, beautifully conceived and deeply atmospheric. I can't recommend it enough. Superb to the last full stop.' Rachel Joyce, author of The Unlikely Pilgrimage of Harold Fry
'Crewe debuts with a rollicking picaresque set in early 19th-century Appalachia...Yip, who narrates as an adult, is an enthusiastic storyteller, and his relationship with Dud forms the fervent backbone of the episodic narrative. This memorable string of adventures reads like a one-of-a-kind mash-up of Charles Dickens and Cormac McCarthy.' Publisher's Weekly
'A sensational debut… This is violent, anarchic American history with echoes of Sebastian Barry's Day's Without End, but Paddy Crewe's take is startingly original. Yip's narrative voice is extraordinary and vivid; it conjures up the stately, ornate language of the early 19th century writers without being glacial or clotted… Crewe has hit gold here. Yip's tale is immersive and beautiful in unexpected places.' The Times, Historical Fiction Book of the Month
'Yip is an endlessly engaging storyteller... Vividly recreated period details… elements of the gothic, burlesque and grotesque come together... Crewe is an author of huge imaginative range.' Alice Jolly, Literary Review
'[A] rollicking, page-turning wild west adventure… with luminous imagery and an unforgettable protagonist… My Name Is Yip is a remarkably vivid and energetic debut novel; a consummate linguistic performance made all the more extraordinary by the fact that its author is from Stockton-on-Tees rather than Atlanta, Georgia.'  Guardian