Tomi Oyemakinde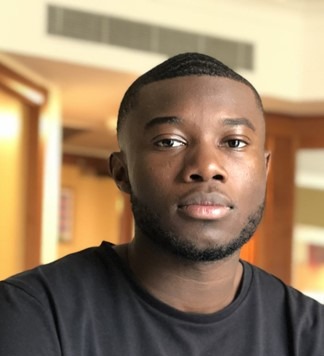 ©
Tomi Oyemakinde grew up in London, before being uprooted at the age of 6 to head across the North Sea to the Netherlands. Going on to live in a further two countries across two continents, he was anchored by a scenic boarding school and fantastical stories – namely Richard Adam's Watership Down.
Despite a love for stories and a desire to write, Tomi considered his first attempts riddled with far too much plagiarism and put down his pen. It wasn't until university that he picked up his pen again and began writing poetry with earnest. Tomi's poems snowballed into two unfinished drafts that had no heart. Taking a step back, he understood he couldn't see himself in what he'd written.
Armed with this newfound knowledge, Tomi finished two stories; the second of which landed him his agents. Now, Tomi is committed to crafting stories centred on Black protagonists thriving across genres, audiences & worlds.
When Tomi is not busy writing, he can be found daydreaming about his future dog (namely a Rottweiler named Pan) and geeking out over all things anime.
Twitter: @oyemakindet_