Katie Edwards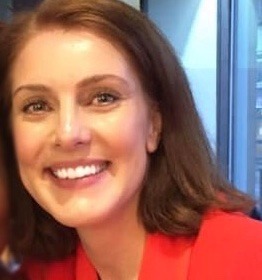 ©
Katie Edwards was born and raised in Mexborough, South Yorkshire. She spent the first years of her life sitting on the stairs with her Nannan Alice, reading. Her Nannan also helped her to create books from the back of Weetabix packets with bits of notepad Sellotaped in the middle. Her first hardback, a festive themed page-turner, included the chapter 'What Christmas Means to Me'. Katie drew a pint of beer with a cheery sprig of holly to signify Yuletide. Katie's parents weren't as delighted with her efforts as she'd hoped and banned her from ever taking her books to school to show the teachers.
Katie went to the University of Sheffield to study English Literature but ended up doing a degree in Biblical Studies by accident - an unedifying story about choosing the shortest subject queue at the freshers' module choice event for fear of missing the half-price drinks offer in the Student Union. Luckily, Katie managed to get to the Student Union in time to catch 2-for-1 on WKD Iron Bru, and was awarded a first class degree – and later, a PhD – in Biblical Studies.
Katie is a former academic. She held the position of Senior Lecturer in the School of English at the University of Sheffield from 2012-2020, during which time she wrote and edited numerous academic articles and books about the relationship between religion and sexual violence and popular cultural appropriations of the Bible. Her academic publications include: Admen and Eve: The Bible in Advertising (SPP, 2012); Rape Culture, Gender Violence and Religion (three volume series) (Palgrave, 2018), and Teen Bibles and Purity Culture (Routledge, 2020).
Katie has written widely for the press, and her work has featured in The Guardian, The Telegraph, The Independent, The Conversation, The Washington Post and Newsweek. She is also a radio presenter. Her credits include the award-winning and critically acclaimed 2018 Lent Talk 'Silence of the Lamb', which Katie wrote and presented, in which she discusses her experience of witnessing sexual abuse in Rotherham in the nineties. She has presented Beyond Belief, a long-running series exploring the place and nature of faith in today's world, and also the 'Yorkshire Poets' episode of Tongue and Talk, both on BBC Radio 4.
Katie is interested in issues of voice, silence, exclusion and power and is writing a book about who decides whose voice is worth listening to – and who decides which voices should be heard with compassion and which should be dismissed, ignored, or silenced.
Katie's Nannan Alice would be dead proud of her.
Twitter: @KatieBEdwards
Website: www.KatieBEdwards.com