Woman, Eating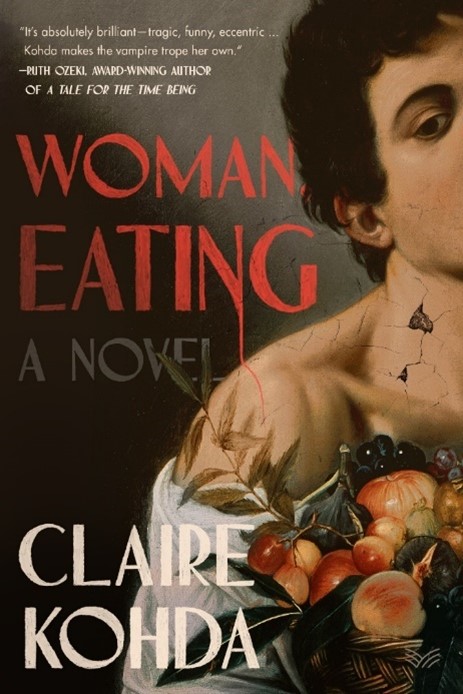 Lydia is hungry. She's always wanted to try Japanese food. But, Lydia can't eat normal food. Her body doesn't work like those of other people. The only thing she can digest is blood, and it turns out that sourcing fresh pigs' blood in London – where she is living away from her vampire mother for the first time – is much more difficult than she'd anticipated.
Praise for Woman, Eating 
Woman, Eating is a BBC debut pick of 2022.
'One of the most original vampire novels in ages… It's Kohda's exploration of Lydia's inner world, the pain and longing she feels as an outsider, that makes 'Woman, Eating' such a delicious novel' New York Times
'We have here a vampire book that will scrub any trace of Twilight from your mind—Claire Kohda's debut follows a young vampire dealing with all kinds of hunger: for acceptance, for artistic success, and for sushi.' Glamour US
'Lydia's achingly vulnerable first-person narration gains momentum as she achieves self-acceptance—and, ultimately, self-empowerment. . . . Subversive and gratifying.' Kirkus Reviews
'You might think the time for vampire novels has come and gone, but you clearly wouldn't be imagining this one.' LitHub
'A magnificent debut' The Millions, Books to Watch out for in 2022
'An unexpectedly funny and eccentric take on the traditional vampire story' Huffington Post, Books to Watch out for in 2022
'Absolutely brilliant - tragic, funny, eccentric and so perfectly suited to this particularly weird time. Claire Kohda takes the vampire trope and makes it her own in a way that feels fresh and original. Serious issues of race, disability, misogyny, body image, sexual abuse are handled with subtlety, insight, and a lightness of touch. The spell this novel casts is so complete I feel utterly, and happily, bitten' Ruth Ozeki (2021)

'Unsettling, sensual, subversive, Woman, Eating turns the vampire trope on its head with its startlingly original female protagonist, caught between two worlds. It is a profound meditation on alienation and appetite, and what it means to be a young woman who experiences life at an acute level of intensity and awareness. Claire Kohda's prose is biting, yet lush and gorgeous. I was uncomfortably smitten' Lisa Harding, author of BRIGHT BURNING THINGS (2022)

'Blistering ... Tells us a lot about the ways we're all searching for belonging' Glamour UK

'A modern day vampire thriller that also covers race, social isolation, unrequited love and parental loyalty ... Lydia battles not only her vampire hunger but also to find her place in the world' BBC
'Woman, Eating deals a lot with food, hunger, and Lydia's relationship to her body. But this novel also deals with spiritual nourishment, art, womanhood, shame, and identity....Khoda's prose will take you on a deep emotional journey. Trust me, this is not your average vampire story—it is a novel that displays the incredible breadth of what speculative fiction can show us about the human condition.' Tor.com
'The way food wends its way throughout this piece is such a fascinating way to explore hunger, various appetites, and even identity. I regret to inform you that this one's not out until the spring, but I believe it's well worth the preorder' Book Riot
'[a] delicious debut' Publisher's Weekly
'What Stoker did for the vampire at the end of the nineteenth century, Claire Kohda does for it in our own era' Times Literary Supplement
'The most unusual, original and strikingly contemporary vampire novel to come along in years.' The Guardian
'The vampire novel has been done many ways, but Woman, Eating, Claire Kohda's intelligent and irreverent take, makes for an enjoyable read… Consciously literary, but in a meaningful and illuminating way' The Times
"If I'm making it sound funny, that's because there's something inherently funny in the idea of a Millennial vampire, but in Kohda's hands, this slightly absurd setup becomes saturated with lyricism. Lydia is taciturn, bruised, detached from the people around her—but her internal reflections on food, art, family, and the clairvoyant sense of connection she gets from drinking blood are larger and brighter than life." Lithub
'Julia Armfield's haunting debut novel deftly weaves a love story into creeping horror. . .Our Wives Under The Sea is a quiet triumph, but beware – this unsettling, saltwater-soaked story seeps  deeper than you think.' The i 
'The writer and violinist Claire Kohda's mischievous debut novel pumps fresh blood into the vampire genre' The Times
'The vampire novel has been done many ways, but Woman, Eating, Claire Kohda's intelligent and irreverent take, makes for an enjoyable read… Consciously literary, but in a meaningful and illuminating way' The Sunday Times
'We've seen sexy vampires, scary vampires and psychic vampires, but never one quite like the one in this ambitious debut. Lydia is a 23-year-old, mixed-race artist whose appetite can only be sated with a tall serving of blood. With wit and a poet's eye, Kohda examines cravings, desire and emptiness.' The New York Times
'Kohda's prose is chilling and entrancing' Glamour
Other Claire Kohda Titles