The Sun on My Head (O sol na cabeça)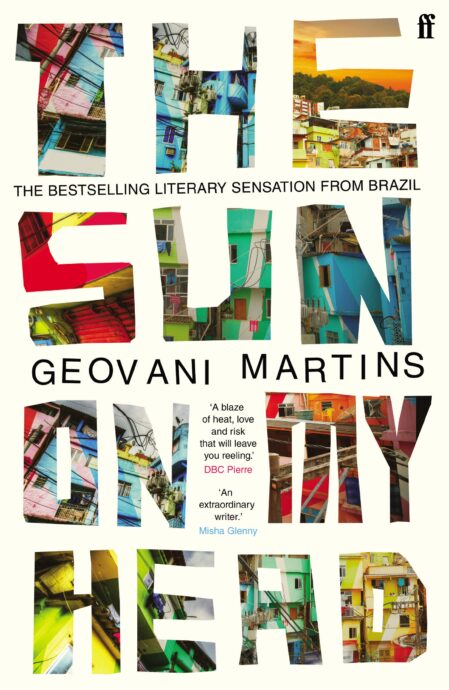 Translated into English by Julia Sanches
The short stories gravitate around the universe of Rocinha. In one of them, the protagonist spends New Year's Eve in Buzios, a beach close to Rio, but he is originally from the favela. There are mainly male characters with personal dramas that relate to drug trafficking; organized crime and extreme violence, but this can assume very subtle ways.
In one of the stories, a young black man realizes how much people are afraid of him on the street just because of his skin colour. He then decides to follow people in the street just to scare them and eventually enters a mind game with a wealthy white man from a fancy Rio neighbourhood that he starts to stalk. In another story, a young boy disobeys his father and takes his gun without his consent. The father is a very honest man who works as a night security guard and has raised the boy with a strong sense of Christian guilt. The story is called Russian Roulette, and at first sight the reader fears for what might happen to the little boy and his friends - when the boy takes the gun with him when he goes to play with them - but eventually the reader realizes that the protagonist's real fear is about being caught by his father and all the guilt this brings into their relationship. This is the real roulette.
These are fragile and sensible men who suffer the consequences of violence, but not always in the most obvious way. The author describes it as the neo-favela outlook.
'Mindblowing' - Chico Buarque
'His writing has exacting standards when it comes to language and composition. Geovani has the gift' Caetano Veloso
'The sun' goes far beyond 'favela literature', whatever that may be, and is quite simply great modern literature, period. [...] A great little book, packed with emotion for start to finish, a crazy ride.' Globo
"Martins's stories evoke the languor and adrenaline of 13 lives . . . He cultivates a sense of place in the slums beyond their oft-chronicled violence and danger . . . These stories conjure the accumulation of experience that molds the young men, charting their synthesis of resignation and defiance." ― New York Times Book Review

"[Martins] walks a difficult tightrope with consummate skill: it renders the everyday brutality of favela life with urgency and sensitivity, without ever lapsing into exploitative voyeurism or fetishistic sentimentalism . . . By flitting between domestic and public settings - between familial tenderness and arbitrary violence - Martins subtly foregrounds his protagonists' loss of innocence, showing just how easily entire lives can go awry." ― Guardian

"Tense, colourful snapshots of the life in these bustling communities, with their heavily armed drug gangs, police oppression and relentless poverty . . . [Martins] riddles his phrases with favela slang, freestyling into hazy existential monologues when his characters succeed in scoring marijuana - a constant preoccupation in the city he describes." ― Observer

"Geovani Martins's The Sun on My Head flies us down to Rio, a city of random violence, constant danger, cruelty, police corruption and utter, breathtaking beauty . this sort-of-miraculous translation by Julia Sanches inhabits its author entirely, speaking with new, vibrant voices that feel like they can only have come direct from him." ― Spectator

"Geovani Martins is an extraordinary writer ... The Sun on My Head is one of the most important imaginings of the devastating inequality that plagues Brazilian society since City of God." ― Misha Glenny 
Territories:
US: FSG UK: Faber China: PRH France: Gallimard Germany: Suhrkamp Italy: Mondadori The Netherlands: Atlas Contact Spain: Alfaguara Portugal: PRH