Sorry!: The English and Their Manners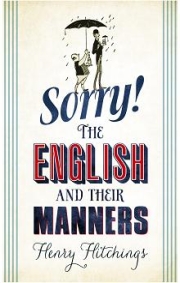 Most of us know a bit about what passes for good manners - holding doors open, sending thank-you notes, no elbows on the table. We certainly know bad manners when we see them. But where has this patchwork of beliefs and behaviours come from? How did manners develop? How do they change? And why do they matter so much to us? In examining our manners, Henry Hitchings delves into the English character and investigates our notions of Englishness.
Sorry! presents an amusing, illuminating and quirky audit of English manners. From basic table manners to appropriate sexual conduct, via hospitality, chivalry, faux pas and online etiquette, Hitchings traces the history of our country's customs and courtesies. Putting under the microscope some of our most astute observers of humanity, including Jane Austen and Samuel Pepys, he uses their lives and writings to pry open the often downright peculiar secrets of the English character. Hitchings' blend of history, anthropology and personal journey helps us understand our bizarre and contested cultural baggage - and ourselves.
'[Hitchings] writes beautiful prose, witty and succinct. His book is full of complex ideas expressed with crystal clarity ... The range of his knowledge and curiosity is remarkable ... Every paragraph contains a fascinating detail about the English language ... I recommend that you rush out to immediately buy it, or to buy it immediately, whichever you prefer.' - Craig Brown, Mail on Sunday
'This richly detailed and often delightfully combative book is a historical guide to the sometimes splenetic battles that have been fought over [English] down the centuries . . . a pleasure to read.' - Andrew Holgate, Sunday Times
'Crisply written, amusing, informative and thought-provoking. Anyone interested in the English language and its history should read it.'- Charles Moore, The Telegraph
Territories:
English: John Murray