Paper Rain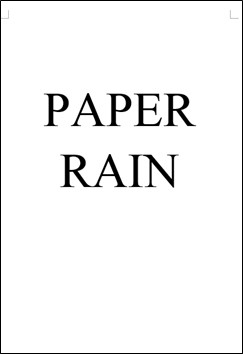 From the author of THE INVISIBLE LIFE OF EURÍDICE GUSMÃO — published in 18 countries and adapted into the 2019 Un Certain Regard Prize-winning film — PAPER RAIN follows an underpaid and overworked reporter and a woman with a painful past. A story about unknown and forgotten storytellers, a hear-warming tale of regret, serendipity and mistaken first impressions.

Rio de Janeiro, 2020. Joel Nascimento, an accomplished yet jaded reporter, realizes he has reached the end of his career with no hope left for the city he once loved. After a failed and comical suicide attempt to escape from challenging ex-wives, creditors, and his own harrowing memories, his life takes a drastic turn when he goes to live with a friend's aunt as a favour.

Gloria is a peculiar and energetic woman whose demands and expectations Joel is not willing to meet. To avoid her, Joel spends his time remembering the gripping stories he covered over 50 years of reporting. The reader is taken to the newsroom of Rio de Janeiro in the 1960s and 1970s, with its typewriters, overflowing ashtrays, old radios and black telephones, and realizes that behind Joel's bitter exterior is a man forced to harden to protect a sensitive heart.

Past and present alternate in this comic and melancholic novel. As Joel confronts his choices, he stumbles upon one last story that will change his life.
Publisher:
Companhia das Letras
Territories: