La Suma de los Ceros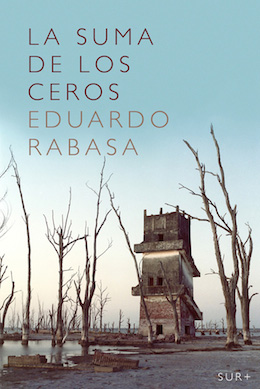 Villa Miserias is a suburb of a suburb where everyone knows their place and nothing ever changes. Every two years, elections are held for the presidency of the residents' committee, and every two years there are no surprises. But the balance begins to shift with the arrival of Selon Perdumes and his theory of Quietism in Motion. With his alabaster smile, he uncovers the deepest secrets of the unwary residents, and transforms their fantasies in reality with the help of the loans he offers them. Growing rich from money-lending, Perdumes gradually becomes the spectral power behind the community. But when Max Michels, sunk in an obsessive relationship with the beautiful, black-eyed Nelly, and, struggling to silence the multiple dissenting voices in his head, decides to run for president without Perdumes' permission, the battle lines are drawn.
A ZERO SUM GAME is a biting satire of contemporary consumer society and the cult of the individual, liberally sprinkled with humour and chilling realism. Rabasa's clear, steady gaze rests on the sophistry and rationalisations that mask the actual situation where, for all the choices we are offered, we have little power over our destinies. Swift would raise his hat to this debut novelist.
Praise for A ZERO SUM GAME:
'A lacerating cri de coeur... [A Zero Sum Game is a] novel of rage and inspiration, heroes and villains, quiet desperation and lurching insights.' Forrest Gander
'The comparisons to Nineteen Eighty-Four are inevitable (…) However, La suma de los ceros is closer to A Brave New World than to the Orwellian dystopia.' Victor Parkas, El País
'La suma de los ceros is an outstanding political fantasy. Eduardo Rabasa has written a futuristic novel set in the present; its inventiveness is notbased on new technologies but rather on new kinds of relationships. It's a novel about the most complicated of extreme sports: cohabitation.' Juan Villoro
Territories:
Mexico: Sur + France: Piranha Germany: Kunstmann Spain: Pepitas de calabaza World (English): Deep Vellum