Britten and Brülightly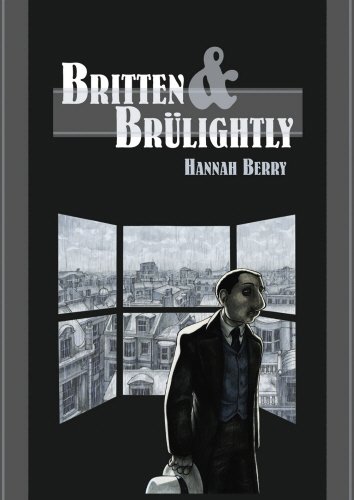 "Nowadays I don't get out of bed for less than a murder. I don't get out of bed much...Until today."
"Private Researcher" Fernández Britten is the messenger who would view being shot as a blessing. The years spent uncovering people's secret dramas and helping to confirm their darkest suspicions have taken their toll. Battered by remorse over the lives he has ruined, he clings to the hope of redemption through delivering, just once, a truth with a positive impact. It's a hope he has been clinging to for a long time.
And so Britten and his 'unconventional' partner, Brülightly, take on the case of suicide Berni Kudos. At least, suicide was the official verdict. His fiancée, Charlotte Maughton, believes his death was something more sinister.
Blackmail, revenge, murder: desperate acts are exposed, and this is no tree-lined avenue to justice. Each new revelation stirs the muddy waters of a family's dark secrets, and each fresh twist takes them further from that elusive redemption.
There are murder mysteries and there are murder mysteries, but this is a noir where nothing is black and white.
'The… perfect marriage of soaringly beautiful drawing and writing that makes you want to jump up and down with euphoria" – The Times
'One of the most gloriously inventive and appealing comic-book debuts in years…. The writing plays wittily off Chandler; the artwork crosses Posy Simmonds with Edward Gorey; the sense of humour recalls Bob Burden … Superb.' – The Daily Telegraph
'A surprise hit. The eerie narrative, elegantly drawn in sharp lines and monochromatic hues… catches the essense of noir.' – The New York Times Book Review
'An audacious, wise-beyond-years debut that that hits the proverbial sweet spot of standout storytelling and ruminative reflection…' – Los Angeles Times
'An impressive debut. Set in a beautifully evoked bygone era, it's a tale of private investigation that takes its narrative queue from the writing of Dashiell Hammett and its visual styling from American film noir'  – Scotland on Sunday
'A beautifully executed affair, moody and mysterious in tone. What stands out is its resonant portrayal of a man in a mid-life crisis, seeking truth while drowning in an ocean of deceit…. Britten and Brülightly is satisfying on an emotional level that transcends genre and takes on philosophical textures. It's as startling and poetic as anything by Chandler or Hammett.' – Time Out London
'Imaginative, beautiful work… Hannah Berry conjures up exactly the right noir atmosphere.' – The Guardian
'A compulsively readable modern whodunit' – Stylist