James Smythe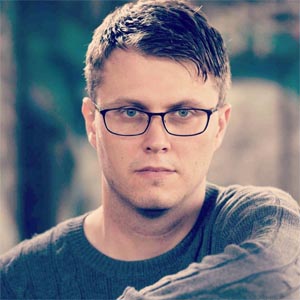 ©
James Smythe is one of the most lauded young writers of his generation. He received his PhD in Creative Writing from Cardiff University, where he also taught. He currently teaches creative writing at Roehampton University. He has published a number of novels: The Testimony, which was the winner of Wales Book of the Year, The Explorer, The Echo, The Machine which was shortlisted for the Arthur C Clarke Award, and No Harm Can Come To A Good Man and has quickly become one of the most critically lauded young genre and speculative fiction writers in Britain.  His latest novel, I Still Dream, is a dark, moving, and ultimately hopeful examination of what it means to be human – and how quick we are to set that humanity aside in the name of progress. Smythe is also a screen writer and is writing a (secret) major blockbuster for Sony.

Books in order of publication:
The Testimony (2012)
The Explorer (2012)
The Machine (2013)
The Echo (2014)
No Harm Can Come To A Good Man (2014)
I Still Dream (2018)

In praise of James Smythe:
'Smythe's storytelling is pacey and addictive; he has a fiendish talent for springing surprises.' – The Times
'What follows is Smythe expertly flinging you through the series of events as he maintains a pace worthy of any great storyteller. In spite of the speed of the read, the suspense is sustained throughout the many twists and turns, until finally landing at a somewhat fun and terrifying conclusion.' – Huffington Post
In praise of The Machine:
A Frankenstein tale for the 21st century, The Machine is a story of the indelibility of memory, the human cost of science and the horrors of love.
'James Smythe's The Machine is the kind of breathtaking conceptual SF long absent from the genre.' The Guardian
'A technical tour de force of virtuoso writing that explodes off the page. Guaranteed to make the longest flight pass faster.' – Daily Mail, Best Summer Books round-up
'Reminiscent of Ian McEwan at his most macabre, it is fiction that demands to be taken seriously. The Machine uses violence and unshielded emotion to precise and devastating effect, reeling the reader towards… a conclusion that feels both utterly shocking and grimly inevitable' – Will Wiles, author of Care of Woooden Floors
'A book about memory, about the impossibility of making the future match the past, and the danger of following a desire too far' – Matt Haig, author of The Radleys
'Like Ballard, Smythe understands, and ruthlessly demonstrates, the nightmare that results when our fantasies are realised. The result is at once terrifying and moving' – Sam Byers, author of Idiopathy
'With his flair for speculative fiction, [Smythe] cooks up something pretty extraordinary' – Dazed and Confused
'As if Philip K Dick and David Mitchell collaborated on an episode of The West Wing. Unsettling, gripping and hugely thought-provoking.' – FHM
'Smythe preys on modern fears… to weave a story that balances creeping dread with deadpan humour. Smythe's nook isn't so much about the big shocks as about offering a creepily persuasive vision of our own future' – Metro
In praise of The Explorer:
'It's like an episode of Star Trek written by JM Coetzee… The novel stays in the mind as a tightly knotted, expertly constructed space trip of a read…. the narrative winds its way through some brilliantly handled twists and revelations… It is to James Smythe's credit, then, that his new novel manages to pay its respects to the conventions of the astronaut-in-peril genre while still doing something new, and memorable, with it.' – The Guardian
'A deep-space thriller that's ingenious, very cleverly constructed and completely gripping.' – Daily Mail
'The Explorer is essentially exemplary: a short, sharp shock of a story from an author who deserves to do as well for himself as he does by us. It's perfectly plotted, smartly characterised and rife with insight and excitement. Then again, when a book begins by killing off its entire cast, up to and including the person who narrates the remainder, you already know you're in for something special, don't you? Make no mistake: this is that.' – Tor
'Very brilliant and very eerie. Seek it out.' – Chuck Wendig (Author ofBlackbirds)
'The Explorer has the dreamlike detachment of an Ishiguro novel…. reminiscent of a 1970s space movie, where the darkness of the void mirrors the darkness of the human soul.' – Financial Times
'Gripping' – The New York Post
'James Smythe's The Explorer unfolds like fractal origami. Elegant, streamlined, complex and beautiful.' Tom Pollock
'Unsettling' – The Daily Telegraph
'Beautifully written, creepy as hell. The Explorer is as clever in its unravelling as it is breathlessly claustrophobic.' –  Lauren Beukes
'The Explorer is a remarkable book: a state-of-the-art spacecraft constructed from ideas, and propelled by a powerful story. Gripping, terrifying and audacious–an exploration in every sense of the world.' – Charles Yu (Author of How to Live Safely in a Science Fictional Universe)
'As you marvel at the twist-laden deep space exploration thriller, it's hard not to draw comparison with Duncan Jones' film Moon.' – Shortlist
'The Explorer by James Smythe is maybe the best novel I've read this year. A structural marvel, it's sad, thrilling, and brilliantly clever.' – Will Hill
'Dark, cold, claustrophobic, and oh so very scary. The Explorer is literary science fiction at its blackest best."'– Adam Christopher, author of Empire State and Seven Wonders
'Surfing the zeitgeist of space is James Smythe's The Explorer, a thriller of deep-space exploration with overtones of the best 70s space-based SF.' – The Guardian, SF predictions for 2013
'A wonderful examination of coping with loss, time and death' – SFX 4.5 stars
'I love surprises, especially when it comes to science fiction movies and books. When the stars align, I feel like I won a small lottery. Such is the case with The Explorer by James Smythe… The downside to finishing the tale is you can't unread it. Just as you can never watch The Usual Suspects again as an unsuspecting viewer, once The Explorer reveal is made, you're committed.' – Wired
 'A perfect crossover between literary fiction and science fiction' – Booktrust
'The SF novel everyone should read' – Foyles
 'The Explorer earns a "can't miss" recommendation for its mind-bending, heart-wrenching, avalanche of a reading experience. Books like this are the kind that create fans, and I'm proud to be one.' – SF Signal 5 stars
'Dark, claustrophobic and furiously gripping, The Explorer is the best kind of literary science-fiction. A beautifully-written novel from a major talent.' – Alex Preston
 'The Explorer is smart, scary and seductive. Like its protagonist, it explores the queasy strangeness of space-time, and puts the reader at the heart of a tale of watching and fearing that comes off like a collaboration between Hitchcock and Heinlein. Excellent stuff." – Lloyd Shepherd, author of The English Monster
"(The Explorer) was one of the most gripping novels that I've read in 2012. Dread, claustrophobia and unease permeate this imaginative, bleak masterpiece. The Explorer was easily my favourite sci-fi novel of the past year, possibly my favourite of all time, and I can't recommend it highly enough.' – Starburst
'Too close to being a meditation to be called a straight-up thriller.. it is a fascinating character study that could only exist in a science-fictional world.' – io9.com
In praise of The Echo:
 'Beautifully written, creepy as hell…. as clever in its unravelling as it is breathlessly claustrophobic.' – Lauren Beukes
'There's an abundance of imagination in James Smythe's The Echo. The Echo is creepy, compulsive science fiction, narrated with the kind of anxious interior perspective characteristic of JG Ballard's finest work.'– The Metro
In praise of Way Down Dark:
'A writer with a preternaturally powerful and distinctive voice.' The Guardian
'A run of brilliant, high concept sci-fi novels have established James Smythe as one of the most interesting voices in the genre since J G Ballard.' – Buzzfeed
'Dark, brutal and amazing. Read it.' Samantha Shannon
In praise of I Still Dream: 
'One of the most affecting and brilliant books I've read this year… a huge achievement: toweringly ambitious, and yet beautifully controlled and crafted" – Sam Byers, author of Idiopathy
'I Still Dream begins with melancholy nostalgia, before growing urgently contemporary and finally chillingly prescient. It is a strikingly intelligent book about intelligence itself: artificial intelligence, emotional intelligence, and all the ways we watch each other. Having read it, you may wish to turn off your phone.' – Sarah Perry, author of The Essex Serpent